Summer 2013 Lincoln, NE, Weather and Climate Update
(as of July 24, 2013)
Our Related Links: Lincoln Weather and Climate and Nebraska Weather Photo Gallery
AND: Is Drought Returning to Eastern Nebraska?
Lincoln's Precipitation Update:
As of July 24, 2013 Lincoln's annual, 2013, total precipitation (18.62 inches) is within 0.52 inches of the total precipitation for all of last year (19.14 inches). It has been very dry this July, in fact as of July 24, 2013 it is drier than July last year which saw 0.33 inches of rain. SEE TABLE BELOW
Lincoln, NE: Year 2013 Precipitation (in inches) compared to normal (as of July 24, 2013)


red above normal

,

blue below normal
Normal January 1 -June 30 precipitation = 14.68 inches.
Observed January 1 - June 30, 2013 Precipitation = 18.21 inches
Normal January 1 -July 31 precipitation = 18.08 inches.
Total precipitation in Lincoln, NE, from June 1, 2013 through July 24, 2013 is 2.77 inches and is 4.26 inches below normal for that time period.
Lincoln's Days with 90F or Higher Temperatures:
As of July 24, 2013 Lincoln has had a total of 21 days with daily high temperatures of 90F or higher. The normal ANNUAL total is 41 days and we are only at the mid-point of our potential summer heat waves, so it is still possible to reach and go above the normal total this year. The total for July 2013 so far is 13 days which is just below the normal of 14 to 15 days (14.6 days).
The total number of days with the temperature
90 degrees F or higher for Lincoln, NE (as of July 24, 2013)
2013, 2012, 2011, 2010, 2009 2008, and (1936 and 1934, the worst years ever) and Normals.
NORMALS* (standard 1981-2010, 30-year normals)
The July 2013 Dry Spell:
The following map shows how dry it has been so far this July, 2013 in eastern Nebraska with much of the area receiving less than 50% of normal precipitation and portions of that area receiving less than 25% of normal precipitation for that time period.
A look ahead:
The following two maps show the outlook (forecast) for the time period 8 to 14 days from now (August 1-7, 2013). The highest probability for Lincoln, NE and all of Nebraska is a continuation of Near Normal precipitation with wetter than normal to our north and east and drier than normal to the south and west of Nebraska. And, the highest probability for temperatures in Lincoln Nebraska and all of Nebraska is Near Normal temperatures with cooler than normal to our north and warmer than normal to our southwest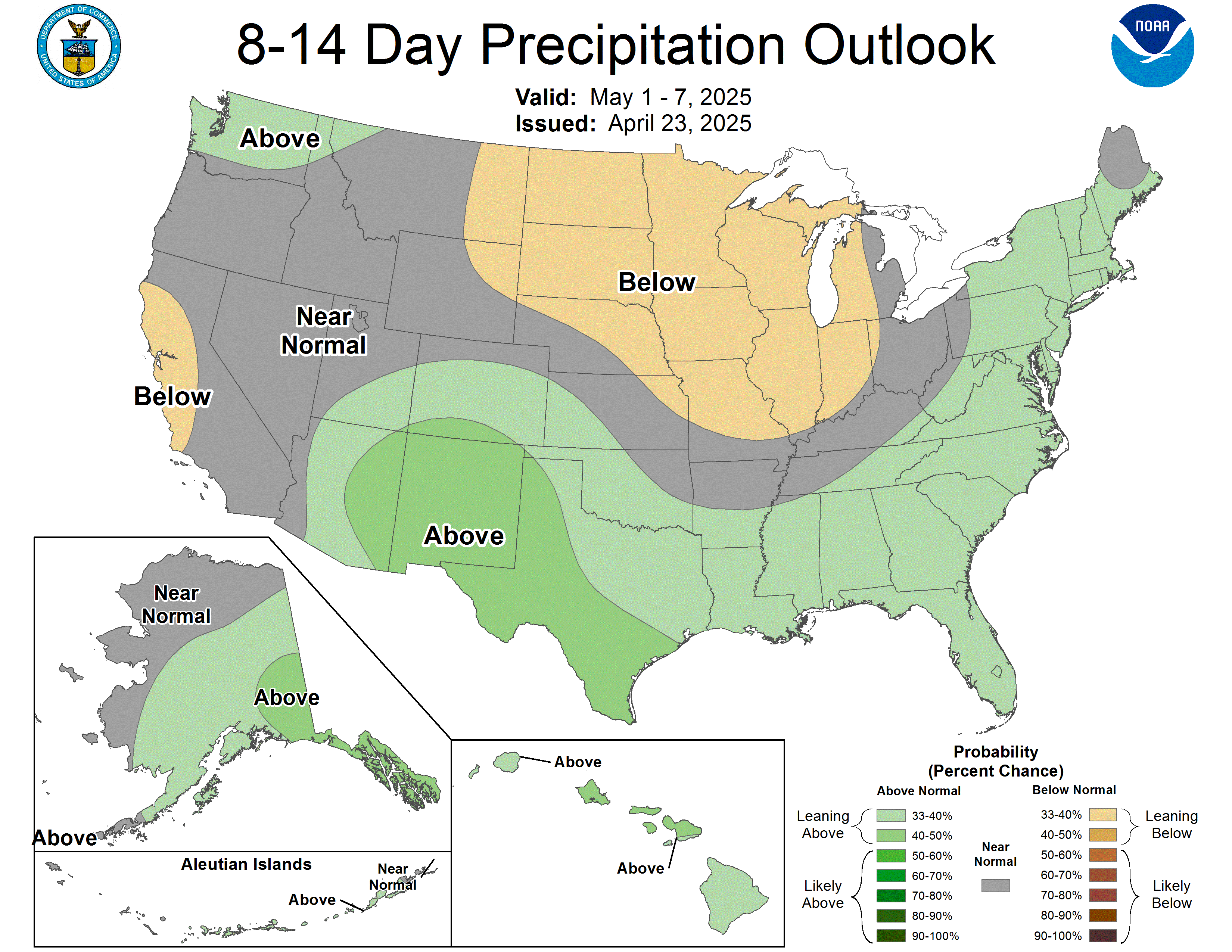 Our Related Links:
Lincoln Weather and Climate
Nebraska Weather Photo Gallery